B.E. Struc.
RPEG 6545 | Meng (IA)
A leading expert in large scale bulk handling machines with 30 years' experience in design, construction and rectification.​
Has been the Principal Engineer and Project Director on numerous machine design projects in Australia, South Africa, India and Colombia.
Christof's body of work has had a significant influence on the practices in major operations.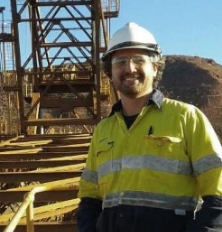 Originating from the industrial heartland of Saarbrücken, Germany, Christof joined a fledgling engineering firm in 1989 from where he logged an intense career in Heavy Machinery Engineering and gained extensive experience in design, structural analysis, mechanical engineering, plant diagnosis and rectification.
Christof nurtures the engineering fundamentals and has taken his extensive design experience directly to the business end of resource operations. His meticulous approach yields efficient concepts which he then builds on with technology.
Moving on he found success in the engineering business. The body of work done by his companies has had a significant influence on the practices in major shut operations.
Known for his ability to have a far reaching perspective as well as an eagle's eye for detail, Christof will ensure Aviation H2 has the right people, process and expertise to keep the company safe, on track and moving in the right direction.
For nearly a quarter of a century, Christof has focused on large-scale materials handling equipment. Within this field, he has been able to gather extensive experience in design, analysis, construction and maintenance.
As a designer, he has been pivotal in numerous ground-up greenfield designs as well as construction, big lift, upgrade and maintenance engineering projects.
This is well complemented with numerous placements in project and construction management as well as countless break-down and maintenance sorties.
Combining such expertise and hands-on experience leading countless engineering firms, Christof is perfectly qualified to help build Australia's first hydrogen-powered plane.
Sign Up To Join The Hydrogen Revolution Today And Receive Exclusive Investment
Opportunities.