Special Report: Aviation H2 Director Dr Helmut Mayer takes us through the comprehensive testing and research that goes into launching Australia's first hydrogen powered plane in the next 18 months.
The Australian-owned Aviation H2, led by principal engineers –
Dr Helmut
and
Christof Mayer
– intends to achieve net-zero emissions in the aerospace sector through green hydrogen.
With 60 years of combined experience in large scale machine design, the Mayer brothers certainly have what it takes to get Australia's first carbon-free aircraft in the air.
Aviation H2 says Australia has the opportunity to become a global hydrogen leader, a space worth some US$174bn ($245bn) by 2040.
The company is looking to achieve this
by developing a state-of-the-art method for converting traditional aircraft into hydrogen-fuelled planes, allowing potential customers to modify existing aircraft rather than investing in an entirely new fleet.
Once initial testing completes next month, the engineering team will present their recommendation on the most commercially viable model to start constructing a prototype.
Burning ammonia instead of jet fuel
"The paths we will choose will need to offer us opportunities to remove environmental impact, remove hazards, improve efficiency, and further optimise performance in the future," Dr Helmut Mayer said.
"Our evaluation during the planning study will include statistical analyses of overall development uncertainties, involving both time and the development of technologies.
"This will give us as sound a view of project risk as we can collate, while also helping us to monitor for over-the-horizon risks as we progress step by step."
Mayer said an example of one of the power paths Aviation H2 is considering is to store ammonia in modified tanks onboard the aircraft.
DIRECT AMMONIA BURN-IN MODIFIED TURBOFAN ENGINE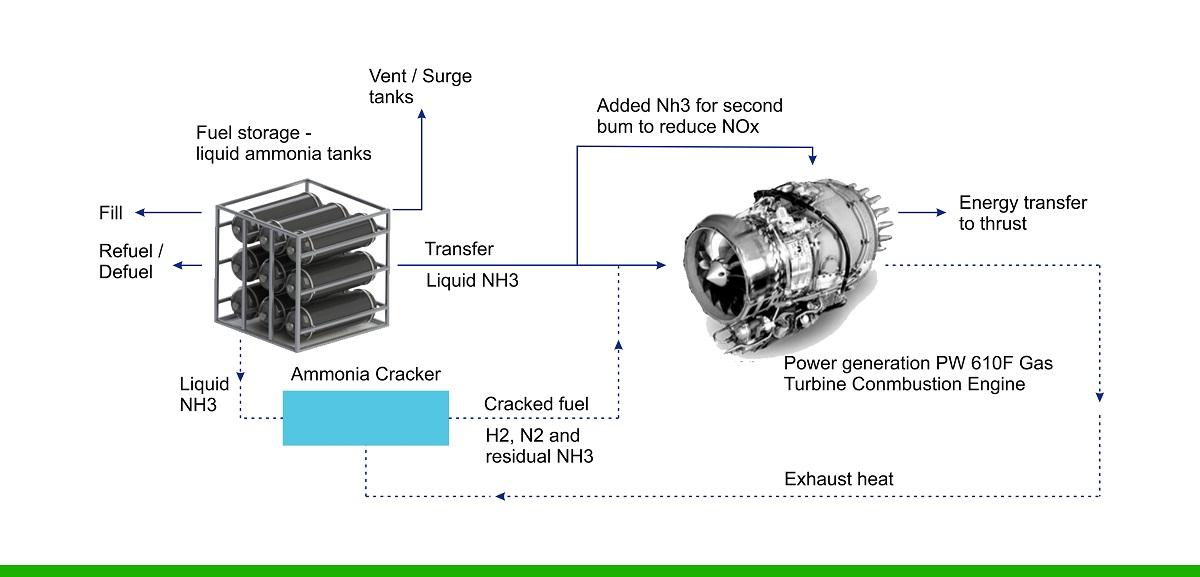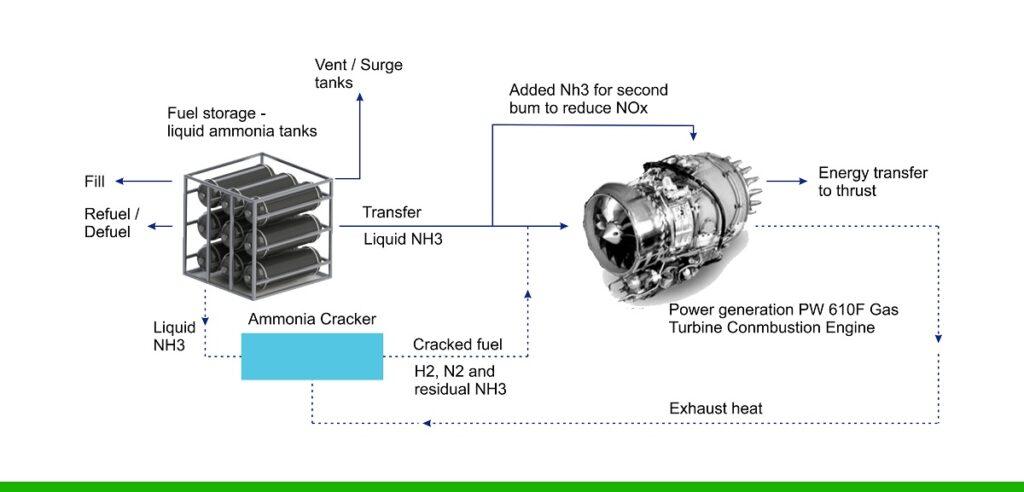 "This would be fed directly into a turbofan engine with modified combustion chambers to burn ammonia instead of Jet-A fuel," he said.
Other routes being considered involve pure hydrogen and co-firing as well as electric paths, each with its own unique set of uncertainties and opportunities.
Next up: Experimental aircraft flight
One of the most important elements, however, will be the state-of-the-art conversion of an existing aircraft into a hydrogen-fuelled engine with most of the base certification retained, Mayer added.
"We will start with an existing aircraft and retain as much of the base certification as possible," he said.
"Making use of existing technologies and infrastructure will also be important to offer our customers as much as possible of what they are already familiar with and what they have already invested in."
After testing completes, Aviation H2 will present recommendations to the board and potential investors before the second phase kicks off – building the hydrogen-powered plane.
"This will take us through to the experimental flight of an aircraft," Mayer said.
"I look forward to sharing our next update in the coming weeks."